I was honored to take lead on redesigning and rebuilding the web presence for a cause as noble and necessary as FLOW: For Love of Water, a non-profit organization dedicated to empowering leaders and communities to protect the Great Lakes (the largest source of freshwater on Earth).
We conducted brand, user, and donor research and helped FLOW leadership realign their digital goals.
See the presentation.
See the previous website: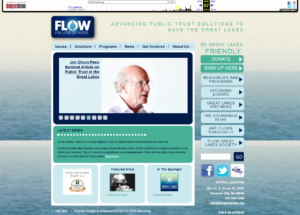 See the wireframes and mockups:
Performance metrics on the new site:
1 year post launch of new site compared to year prior to re-launch (3-24-2016 through 3-24-2017 compared to 3-24-2015 through 3-23-2016):
Over $20,000 in online donations in first year post-launch
42% increase in overall sessions
37% increase in new sessions from organic search
282% increase in new users from social media
Mobile device usage increase by 106%
Tablet usage increase by 56%
15% increase in avg. session duration
49% increase in traffic from Gen Y demographic
40% increase in new users
305% increase in average time on page
See the new website below or see it online yourself (launched 3-24-2016):